Storm Damage Can Happen At Any Time in Oxnard, CA
2/11/2022 (Permalink)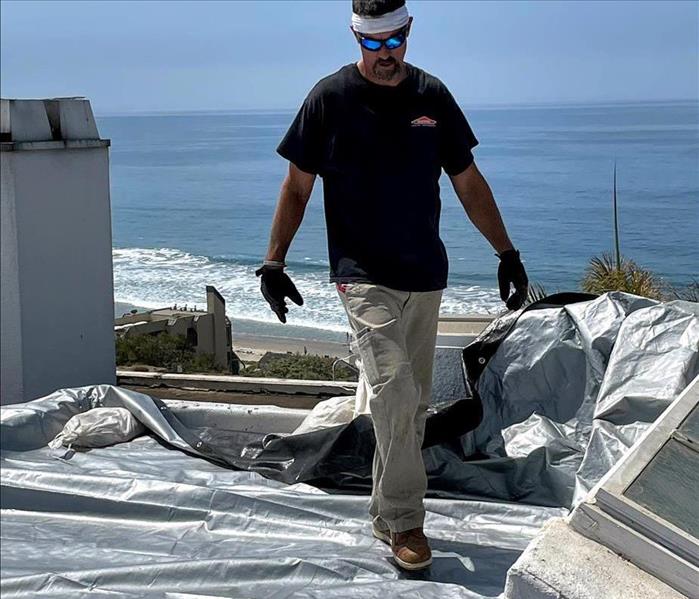 Securing your property is essential to protecting your possessions and reducing your temporary relocation. Contact SERVPRO of Oxnard at (805) 984-2347
Violent weather events are frequently followed by large loss recovery programs to help residents get their homes back to the condition they were in before the event. Our team of local technicians is expertly trained in the restoration of residential properties after storm-related incidents. We are here to both secure the structure, stop immediate losses before then carrying out a procedure to get your home back to its best. Our emergency services incorporate on-call technicians who can arrive quickly to your property and perform vital tasks that reduce immediate losses as well as the expense of your claim. You can contact us twenty-four hours a day to begin the loss recovery procedure.
When we deal with storm damage in Oxnard, there are several stages from assessment through to the restoration of your home. You may need general contractors, remodelers, or architects to perform major surgery on your home to get it back to its pre-storm state. Temporary relocations can be frustrating for homeowners who want a restoration that is delivered on time and on budget. However, none of these vital procedures can be carried out without the first step of securing the property.
High-winds and rushing floodwaters can break through doors, windows, or harm roof tiles. If you are away over the weekend when a storm strikes, there is a real possibility of waterlogging affecting the structural integrity of your home. SERVPRO technicians can enter your property to perform a scoping task that not only secures the property but also creates the conditions for third-party rebuilding and repair to get underway as quickly as possible, thereby reducing the length of your time away from the property.
Scoping procedure is about creating a safe space for restorers, remodelers, and builders. Security is our first concern, and we can board up broken windows or doors using sturdy barriers to prevent unauthorized access to your home and secure your possessions. We can also restore power to the property and neutralize potential hazards. Inside the property, water can be extracted or pumped out, and any infectious waste removed. An initial cleaning process can also help to slow-down, or stop, further losses. Once we have secured the site, we can arrange for contractors on your behalf to carry out the large remodeling tasks required to return your home to its preloss condition.
Securing your property is essential to protecting your possessions and reducing your temporary relocation. Contact SERVPRO of Oxnard at (805) 984-2347 for emergency assistance.
Click here to see more about Oxnard, CA.